A Great, Non-Gimmicky Product to Increase Garden Yields
Over the last several years we have seen a dramatic increase in yields from our vegetables. For example, we used to space our tomato plants at 16 inches apart and now we have plants that routinely get as wide as 16 feet. We also now have more productivity with a lot less work. This has been accomplished by learning and trying different techniques — and the introduction of new products like our fertilizer, our new soils, our reusable trellis netting & clips, and new and different containers.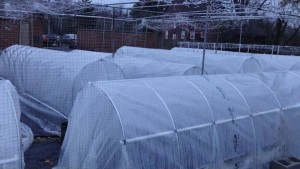 We have just taken another big step to increase production with the installation of our mini-greenhouses.
Our mini-greenhouses turn backyard garden beds into year round harvest beds. They allow us to start summer crops a month earlier, keep the harvest going a month later, keep our soil alive all winter and also grow a winter crop.
We have them covering our beds here (see pic above)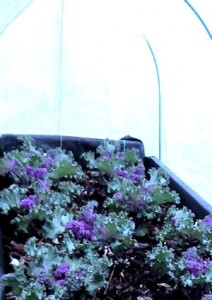 and are now selling the components you need to make your own. These mini-greenhouses can pay for themselves the first year with increased and year-round harvests.
Set them up as soon as possible because the longer they are up, the warmer your soil will become, and that will permit earlier harvests. Instead of planting peas in frozen soil in late March, we will be planting them in February in warmer, thawed soil.
If we can speed up our spring pea harvest, we can plant our summer beans earlier, and then also get in another fall crop of peas. Harvesting another 25 lbs. of peas from each bed means an additional $200 of wonderful produce (from each bed). We had several CSA members last year say the peas were so good, they were eaten before they got home.
These mini-greenhouses can also provide protection from pests like squash vine borers and cucumber beetles. You can start tomatoes weeks earlier and still plant them in warm soil so there will be no shock from planting in cold soil.
Here are the details:
·         Galvanized steel arched frames are 10′ long pipes formed into either 36″ or 48″ widths. 36″ wide frames are about 48½" tall — and 48″ wide frames are about 46½" tall.
·         Space the frames at 24″ apart to provide enough support for snow load (they can be spaced at 4′ if just used for frost protection). 
·         1 ridge pipe is also needed to make the structure more rigid. 
We also have 6 mil plastic commercial quality greenhouse covering available. It has a 4 year guarantee for UV breakdown but should last for over 10 years if stored properly in the summer. It comes in a 12 ft. width cut to any length.
Costs:
·         Galvanized steel arched frames are $7.00 each.
·         Galvanized steel straight pipes for the top ridge are 10 ft long and $3.99 each.
·         Cost for the greenhouse quality plastic is $.27 per square foot. Construction plastic can also be used, and is much cheaper, but needs to be replaced every year.
Here is an example of materials needed to cover a 4x8ft. bed with a mini-greenhouse.
A 4′ x 8′ bed uses 5 – 48″ hoops and 1 ridge pipe.
A 4′ x 8′ bed would need a 12′ x 19′ covering.
This would make the total cost for a 4′ x 8′ mini greenhouse as follows:
| | | | |
| --- | --- | --- | --- |
| | Qty | Cost each | |
| Hoops | 5 |  $    7.00 |  $     35.00 |
| Ridge pipe | 1 |  $    3.99 |  $       3.99 |
| 6 mil, 4 year plastic 12′ x 19′  | 1 |  $  61.56 |  $     61.56 |
| Total cost | | |  $   100.55 |
A 4′ x 10′ mini-greenhouse requires 6 hoops, 1 ridge pipe and a 12 x 21 ft of plastic for a total cost of $114.03.
We set up ours in the fall, but you can set them up over your raised beds or gardens anytime before Spring — the sooner the better for warmest soil temperature and earliest planting in Spring. As we say with planting in Spring, soil temperature is the key to early planting time
Mini-Greenhouse Seminars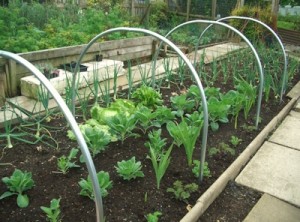 We think so highly of our mini-greenhouses that we will hold our first 2 seminars on their installation and use.
Mini-greenhouse seminar dates will be Sunday Jan. 19, 2014 at 4PM and Monday Jan. 20, 2014 at 6PM. Call or use return email to reserve seating.
The cost for attending these seminars will be $20 and this fee can also be applied to the purchase of mini-greenhouse materials or kits.