Our Immunity Builder Salad Mix contains many very nutritious plant foods — grown in a way that makes them even more nutritious — harvested when they are their peak — combined to be 89% nutritionally complete — and loaded with a diverse range of plant phytonutrients that boost our immune system and build strong and healthy bodies.

Sourcing of food is becoming very important today because of pesticides and nutritional variation of food quality. We use the best quality ingredients available in our salad mix and save you time and trouble trying to find quality sources for our nutritionally most important foods.

It is also a very versatile food and it can be used in many ways to supply nutrients and flavors otherwise lacking in our diets. Adding some Immunity Builder Salad mix to your daily diet is better than taking any supplements — and at a lower cost.

Below, you find several recipes featuring the Immunity Builder Salad mix that you and your family are sure to enjoy (many contributed by our customers). Experiment yourself and add the Immunity Builder Salad Mix to your favorite dishes for extra flavor and lots of extra nutrients. Let us know if you have a favorite new recipe to share.

Immunity Builder Pita Pizza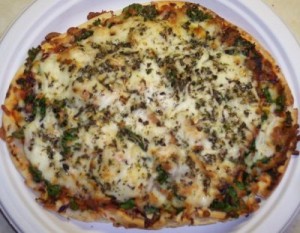 1 – 8″ Pita Bread

2 cups Immunity Builder Salad Mix


2 Tbl marinara or spaghetti sauce

½ cup shredded mozzarella cheese

our pizza seasoning mix or oregano

garlic powder


Put 2 Tbl marinara on pita bread. Season with seasoning mix or oregano and garlic powder. Spread 2 cups of salad mix and top with cheese. Season again with seasoning mix or oregano and garlic powder. Cook in oven or toaster oven at 450 degrees until cheese starts to brown (about 10 minutes).
Enjoy! This is a nutritious, quick & easy, very filling and low calorie meal. (about 250 calories). I make two at a time which takes about 8-10 minutes and keep one in the fridge for later (it keeps about 2-3 days ).
Immunity Builder Toasted Spring Rolls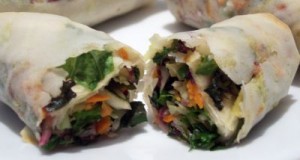 3 cups of Immunity Builder Salad Mix

1 Tbl olive oil

1 tsp organic lemon juice

1/4 to 1/2 tsp hot pepper sauce

Spring roll skins – We have them for sale!
These are one of our favorite snacks. They contain about 50 calories (less than 2 pretzel sticks) — and they are very tasty, very filling, and very healthy. The toasted spring roll, slightly warmed salad mix and the lemon and hot pepper make a great combination. Kids love them and they can be a great after school or after work snack.

You can make these without dressing — and some make them plain but dip them in a sauce or favorite dressing.
You can make them ahead of time and keep them in the refrigerator for a few days (We put layers of paper towels between them when we make a lot). Note: They will keep better without dressing. When you want a quick snack, just pop them in the toaster oven and they will be ready in about 5 minutes (remove as soon as they start to brown).
Quick and Healthy Pasta Salad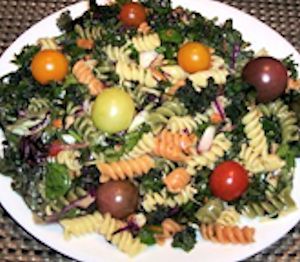 2 cups of Immunity Builder Salad Mix     

3 Tbl of Marzetti's Roasted Garlic Italian Vinaigrette or your favorite vinaigrette or Italian dressing.

2 cups of your favorite cooked pasta.

A few mixed color cherry tomatoes – optional but a great addition.

Cook pasta. Rinse with cold water to stop cooking and cool off noodles. Mix cooked pasta, salad mix, and dressing.
Hint – You can make the pasta a few days ahead of time – add ½ of the dressing, and store in refrigerator. Mix with salad and remaining dressing for a quick meal, lunch or after work snack.
This dish is filling, delicious and nutritious.
It makes 4 or 5 servings at about 135 calories each. Each serving has about 4gms of fiber and 12gms of protein.
Immunity Builder Fritata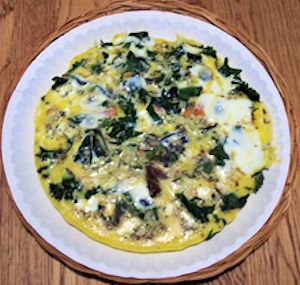 This may be the most popular recipe our customers make with our Immunity Salad Mix.

Warm 3/4 – 1 inch of salad mix in a non-stick pan, and cook til wilting. Some people like to use frozen greens which will wilt when thawed.

Mix an appropriate number of eggs in a bowl with some light seasoning like our chicken rub seasoning, or just salt and pepper and pour mixture over the salad mix.

Reduce heat to very low and slowly cook until the eggs are done.
Beans and Greens Salad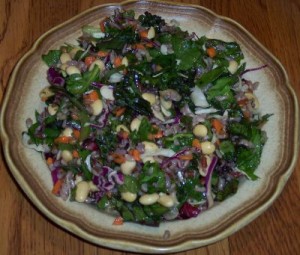 This is an inexpensive, easy, delicious, nutritious and satisfying dish. Combining the beans and grains makes this a high quality protein meal. The picture has our local organic white soybeans instead of a beans mix. One recipe can provide a dozen or more quick meals during the week.

Ingredients
2½

 

cups of our organic Beans and Grains Mix — or our organic Beans Mix

8 tbl of Marzetti's Roasted Garlic Vinaigrette or your favorite vinaigrette or Italian dressing

8 cups Immunity Builder Salad Mix.



Soak beans and grains overnight or about 8 hours. Cook about 1 hour – keep firm and do not overcook. Rinse with cold water to stop cooking.

In a large bowl, mix beans and grains, salad and dressing. Serve immediately or let cool in refrigerator before serving. This recipe makes about 12-14 one cup servings.

Hint – You can make the beans and rice mix a few days ahead of time – add half of the dressing, and store in the refrigerator. Mix with salad and remaining dressing for a quick meal, lunch or after work snack.

Each 1 cup serving contains about 10 grams of fiber, 12 grams of protein and 300 calories. It is a nutritionally well balanced meal.
Fat Free & Fabulous Fried Rice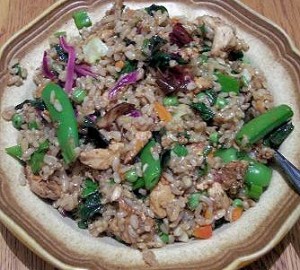 You never knew fried rice could be so healthy — or so good.

I am a big fan of fried rice but I don't like using white rice and, never liked the amount of oil used in making it.

So I have been trying for many years to make a fried rice recipe using brown rice that tasted good and had as little oil as possible. The last piece of the puzzle was our Immunity Builder Salad Mix which adds color, flavor and a nice crunch to the rice. Here is our recipe.

1 cup uncooked brown rice

¼ lb chicken breast, pork tenderloin or shrimp (optional)

2½ – 3 cups Immunity Builder Salad Mix — chopped a little finer

½ cup frozen peas or snap peas



Sauce
1½ Tbl red wine vinegar 2 Tbl soy sauce

½ tsp sesame oil

1½ tsp fresh chopped organic ginger or 1/2 tsp

 

powdered dried ginger

½ tsp red hot sauce (optional – but does not add too much heat)

1-2 Tbl olive oil (optional)



Cook 1 cup of brown rice with no more than 1 ½ cups of water and keep warm. Cook meat in a little water or bouillon — add the sauce mix — bring to a boil — add the rice — and mix thoroughly — then mix in the peas. Let cook for  a minute if using snap peas. Remove from the heat — let the rice absorb all of the liquid — and mix in the Immunity Builder Salad Mix. Serve immediately while the salad is still crunchy.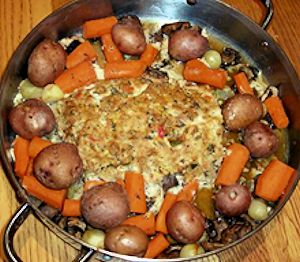 Turkey Meatloaf with Roasted Veggies
Here is a great recipe for meatloaf with salad greens and veggies added for flavor and nutrients. The flavor and moistness even surprised my mother.

Thanks to my friend and master cook Sally Dixon for introducing me to this combination of meatloaf and veggies cooked together.

Two pounds extra lean turkey meat

4 cups of Immunity Builder Salad Mix – coarsely chopped

1 ½ cups of our Garden Salsa

2 eggs

1/2 cup of breadcrumbs

Favorite seasoning mix – I prefer 1/4 cup of our Maui onion seasoning mix.



Mix above ingredients together in a bowl and form into loaf in the center of a large pan or roaster. Add as many organic potatoes, carrots, cremini mushrooms and onions and/or shallots as will fit in the pan.

We used a dozen organic potatoes, 1 lb of organic carrots, 1 lb of cremini mushrooms and a dozen shallots.

Roast covered at 350 degrees for about 60 minutes — remove cover and cook about another 10 or 15 minutes or until meat browns.

We had some extra turkey mix and put it into a muffin pan, making turkeyloaf muffins. These only needed to be cooked about 35 minutes. They were very moist and made a nice portion size for dinner.
Here is a great vegetable dish. The salad mix holds the flavor of the sauce better.

Ingredients
2 cups organic broccoli florets cut into quarters

2 cups Immunity Builder Salad Mix

2 medium organic carrots sliced into ½ inch round slices
 Sauce ingredients
3 Tbl extra virgin olive oil

2 cloves garlic (chopped or pressed)

2 tsp fresh lemon juice

sea salt and pepper to taste



Mix sauce in a small microwave safe dish and warm gently for about 30 seconds to 1 minute (do not overheat) or make sauce ahead of time and let sit for about 30 minutes.

Bring steaming water to boil. Add broccoli, Immunity Builder Salad Mix and carrots, cover, and steam for 5 minutes.

Transfer to a bowl and mix with sauce while still hot. You can serve this hot or cold.