Growing Peppers
Peppers are one of the most important garden vegetables. A ripe pepper contains about 3 times as much vitamin C as an orange. They can be frozen, dried, or canned in letcho sauces — and used year round.
They should also be among the most productive gardens plants — but usually dramatically underperform. A couple of years ago, we harvested 142 sweet Gypsy peppers from a single plant and have harvested 25 lbs of ripe red peppers each week for months from a single 5 x 10 foot bed. The pepper problem comes from a lot of poor information about how they grow — poor soil fertility — and poor variety selection.
Peppers and soil fertility
We have been very successful in producing a continuous supply of colored peppers all summer by growing them in a highly organic, compost based soil (it is almost pure compost) — and fertilizing them well.  The ability of biologically active soil to hold water and nutrients is important to pepper health. They like lots of moisture — but require well drained soils.
Peppers are also heavy feeders, especially when flowers and fruit start to form. Studies have shown that half of the nitrogen will drain out of the leaves of pepper plants at this time without adequate fertility. If enough nitrogen is not available, growth will slow as will production of more flowers for the next fruit set.
We feed every 2 weeks throughout the growing season with our all-purpose, all organic vegetable fertilizer and are rewarded with continuous production of flowers and more fruit until frost. Stop fertilizing and they stop producing. I could never grow really productive plants until I started fertilizing with our fertilizer — and doing it more heavily.
Choosing varieties wisely
Pepper seeds range from $80 per lb to $8,000 per lb. Many greenhouses and garden centers grow and push the cheaper varieties because they are more profitable. The modern, most productive hybrids are among the most expensive garden veggie seeds.
Since most consumers don't know the difference, many end up buying older varieties that produce very poorly in most of the country. These old varieties will not set fruit if temperatures rise above 90 degrees or fall below the mid 40 degree range. This eliminates fruit set during much of the growing season and results in a poor overall fruit production.
Peppers like high humidity
Unlike tomatoes and most other garden vegetables, we always plant peppers fairly close together in large beds, and never in rows where they dry out too fast. Every time that you see your pepper plants wilting, they are being stressed which results in reduced fruit production. I like to water them thoroughly in early evening and wet them down in the early afternoon to prevent wilting — if possible. Planting in blocks prevents moisture loss by shading the soil and allows for a nice foliage canopy to protect the fruit from sunscald.
The best pepper bed layout
The best way to grow peppers that I have found is in beds about 5 ft wide — framed with a PVC pipe support and held in place with horizontal netting. This supports the plants from falling over from the weight of the peppers and eventually helps to support insulating cloth in fall to extend production. I start to harvest peppers in late June or early July and continue until Thanksgiving. That makes our harvest period of peppers one of the longest of any vegetable in the garden.
They grow quite well in containers and can be brought indoors in fall for an even longer harvest period.
Many of our customers have had success with overwintering peppers in their home and taking out the same plants into the garden the next year.
THE BEST garden vegetable
I have been growing Gypsy peppers since the seeds first became available in 1980. Of all the hundreds of varieties of vegetables that I have grown since, Gypsy peppers are probably my favorite garden vegetable. I would be disappointed with fewer than 50 Gypsy peppers per plant and a few years ago, harvested 142 peppers from a single plant. Their mild and sweet flavor makes them incredibly versatile in the kitchen. I use them on sandwiches, salads, in stir fries, chili, stews, soups — they can be stuffed with a wide range of fillings including cold salads and salsas, either fruity or spicy — and served either raw and cold or cooked. They are also ideal for people who have a hard time digesting green bell peppers. I find it interesting that about 30 years after they were introduced, and began appearing on the dinner plates of avid gardeners, gourmet restaurants are just beginning to appreciate their culinary versatility and potential.
Other favorites
I love all of the myriad of flavors of the pepper clan and I am still learning how to use many of them. All of the sweet ones are great (I especially like the rich flavor they add to sauces), but I probably like some of the ones that ripen yellow best to snack on — the latest of which is Flavorburst. The medium hots are very versatile — Anchos or Pablanos may be the most versatile of these — they make interesting and spicy stuffed peppers and are also good in stir fries and relishes. Most of the heat of the medium hots is in the white ribs and if this is scraped out they become much more mild. I like the really hot ones in chili and for cooking because they don't interfere with other veggie flavors — they just add heat. My favorite really hot one is Hot Paper Lantern. They are much more productive than habaneros and are harvestable much earlier. Padrons are the most puzzling of all peppers — you never know which one will be mildly hot or fiery hot — although they are much milder when picked very small.
Small Snack Peppers
Sweet Orange Snack Pepper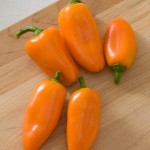 Lunchbox Orange (OG)
Beautiful, mini-sized, colorful Lunchbox snack peppers are remarkably sweet and flavorful. They are delicious sautéed, as an addition to salads and, perfect for a healthy snack. All three varieties have tall strong plants that yield well for snack type peppers.
Sweet Red Snack Pepper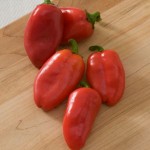 Lunchbox Red (OG)
Beautiful, mini-sized, colorful Lunchbox snack peppers are remarkably sweet and flavorful. They are delicious sautéed, as an addition to salads and, perfect for a healthy snack. All three varieties have tall strong plants that yield well for snack type peppers.
Sweet Yellow Snack Pepper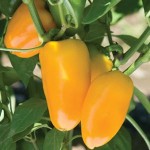 Lunchbox Yellow (OG)
Beautiful, mini-sized, colorful Lunchbox snack peppers are remarkably sweet and flavorful. They are delicious sautéed, as an addition to salads and, perfect for a healthy snack. All three varieties have tall strong plants that yield well for snack type peppers.
Sweet Mix Snack Pepper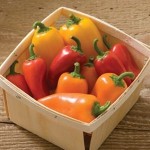 Lunchbox Mix (OG)
Equal amounts of red, yellow, and orange Lunchbox snack. These beautiful, mini-sized peppers are remarkably sweet and flavorful. They are delicious sautéed, as an addition to salads and, of course, perfect for a healthy snack. All three varieties have tall strong plants that yield well for snack-type peppers.
Small Snack Peppers
Sweet Red Specialty Pepper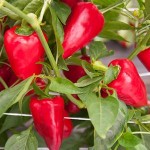 Lipstick
Red, cone-shaped peppers are a West Coast farm market favorite. Sweet, juicy, and thick-fleshed, these 4″ long, heart-shaped peppers are not only delicious in salads and salsas but are also great for roasting. Dependably productive.
Sweet Orange Specialty Pepper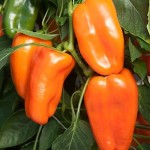 Glow
New! Bright orange partner to Aura and Lipstick is equally easy to grow and rounds out the trio. A tasty trio of tapered, thick-walled, 2-3 lobed fruits, 4-5″ long, and are deliciously sweet and fruity. Medium-size plants yield well. Organically grown.
Sweet Yellow Specialty Pepper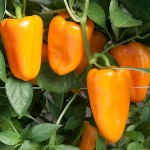 Aura (F1) (OG)
New! Golden yellow fruits turn from green to yellow to gold at full maturity. Tapered, thick-walled, 2-3 lobed fruits are 4-5″ long, and are deliciously sweet and fruity. Medium-size plants yield well. Early and easy to grow.
Red Gypsy Pepper
Gypsy Pepper
After decades of gardening experience, and testing hundreds of vegetable varieties for Cleveland's Community Gardening program, this is the one garden vegetable that Ron rates #1 for taste and yields. Extremely productive (up to 20 fruits at once)
Bell Peppers
Yellow Bell Pepper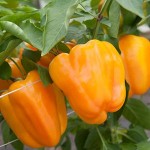 Flavorburst (F1)
Vibrant yellow/orange. Initial color is lime green, turning to yellow, and then to yellowish orange when ripe. Excellent, sweet flavor. Medium-large fruits are mostly 3-lobed and slightly elongated.
Orange Bell Pepper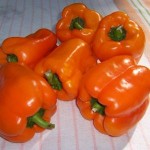 Gourmet
Thick juicy walls and fruity sweet taste. Strong compact plants set plentiful fruits.
Red Bell Pepper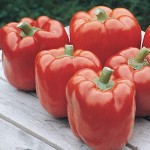 Red Knight
Remarkably large, early, green-to-red pepper. Big, blocky, thick-walled, and turns red early.
Red Bell Pepper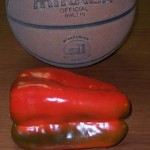 Big Bertha
Plant produces good yields of huge 7″ long by 4″ wide sweet peppers. Peppers turn from green to red when mature.
Red Bell Pepper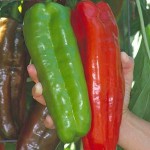 Giant Marconi
Awarded for its earliness, yield, size, and flavor, this is one of the biggest Italian-type, sweet peppers that you'll find anywhere. Peppers turn from green to red, and at 8 inches long. 30-inch tall plants bear heavily despite cold, wet, or dry conditions, and are resistant to potato virus and tobacco mosaic virus. ALL AMERICA SELECTIONS WINNER.
Purple Bell Pepper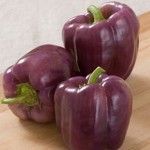 Islander (F1)
Medium-size, thick-fleshed peppers with a mild, slightly sweet taste. Fruits ripen through a showy stage of violet, yellow and orange streaks, eventually turning a rich, very dark red. Strong, medium-tall plants yield well.
European Sweet Tapered Peppers
European Frying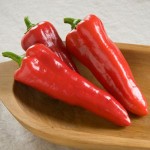 Pepper        Carmen
2006 All-America Selections winner. Italian Bullhorn type. Early, productive, and delicious.
European Yellow Pepper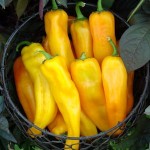 Mama Mia Giallo
AAS judges declared this a "great yellow pepper". Bright yellow tapered fruits grow 7 to 9 inches long and are very uniform with smooth skin and sweet flavor that is excellent fresh, roasted or grilled. The plants are somewhat compact with strong stems to support the heavy yields of over 30 fruits per plant. A standout both in the garden and at the dinner table.
Specialty Spicy to Hot Peppers
Pepperoncini Pepper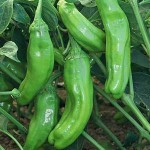 Golden Greek Pepperoncini
This strain from Greece is somewhat rare and prized by those who want the peppers for pickling. Because they are smaller and lighter in color than the regular Pepperoncini, homemade jars of these golden peppers look more like the commercial product. Same thin-walled, slightly wrinkled shape, and mildly hot flavor as the other Pepperoncini, and the perfect addition to Greek salads.
Pepper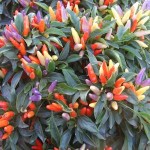 Numex Easter
NuMex Easter is a compact, well branched, uniform in size plant that displays small clusters of 4-6 fruits on top of the plant in a range from lavender to light yellow and when fully mature a light orange.The colors of the fruit resemble the pastel colors of Easter eggs.
Ancho/Pablano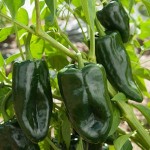 Pepper        Tiburon
Tiburon Hybrid is about the best Poblano available anywhere, offering huge yields of disease-resistant, extra-large, dark green to red fruit on a big, tall plant.
Meidum Hot Tapered Pepper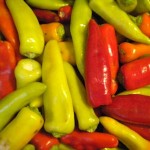 Hungarian Wax
A Mexican favorite that's four to five times hotter than jalapeno: distinctive, pungent flavor. Large 2-3′ plants produce fruits about 5″ long that start out bright yellow and turn red as they mature. They make great pickled peppers.
Jalapeno Pepper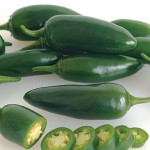 El Jefe (F1)
Best combination of earliness and yield in a jalapeno. Fruits avg. 3 1/2-4″, a bit longer and thinner with less checking (small cracks in skin). Large plants have a higher yield potential.
Hot Pepper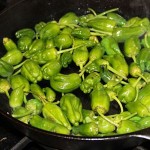 Padron       
Famous Spanish heirloom. Named after the town where they originated. Harvest Padron peppers when they are 1-1 1/2″ long. About 1 out of 20 fruits will be hot, and the rest mild. All the fruits become hot if allowed to grow 2-3″ long. Padrons are served sautéed in olive oil with a little sea salt, and eaten as tapas (appetizer) in Spain. 
Hot Pepper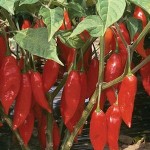 Hot Paper Lantern
Earlier, bigger and more productive than regular habaneros, they pack the same mouth-blistering heat. Magnificent, elongated and wrinkled, lantern-shaped fruits are 3-4″ long. Tall plants. Organically grown
Black Hot Pepper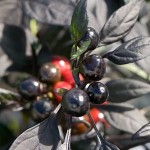 Black Pearl
3/4″ round, shiny black fruit matures to dark red and is very hot. Bushy, upright, and well-branched plants have foliage that is greenish when young and matures to glossy black. Use it as an accent in the garden, a focal point in containers, or a startling filler in dramatic bouquets. AAS and Fleuroselect Quality Mark winner. Ht. 14-18″.
Hottest Pepper
Ghost (Bhut Jolokia)
Earning the world's hottest pepper title in the 2007 Guinness Book of World Records, Ghost is rated about 300 times hotter than a jalapeno. They're becoming a culinary rage, where you might find them incorporated (in small amounts) in ketchup, burgers, jelly and even hard candy. The wrinkled fruit reach 2 1/2 -3 inches long and ripen from orange to red.
Slightly Spicy Red Snack       Pepper
Sweet Heat