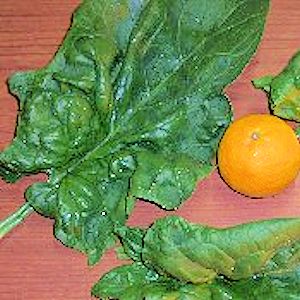 Culture
Spinach loves cool weather and is a heavy feeder. Fertilize well every 2 weeks with our organic fertilizer to improve production.
We plant our spinach as early as possible in beds about 6-8 inches apart for sweet and tender, yet very large leaves (see pic with tangerine). When grown properly, the leaves are the same size as Swiss chard, which spinach is related to.
Traditional methods for bunching and full size
Sow about 9-10 seeds/ft., 1/2″ deep, rows 12-18″ apart.
Harvest spinach leaves when full size but before bolting. For baby leaf: Sow in a 2-4″ wide band, 3/4″ apart, about 40 seeds/ft. Clip small leaves in 3-5 weeks, depending on time of year and speed of growth. For a continuous supply, sow every 7 days. Using transplants saves 2-4 weeks in days to maturity.
Sowing Dates
Spinach germinates and grows best in cool soil. Begin sowing in early spring as soon as the ground can be worked – or plant transplants as early as possible. Summer sowing in soil over 85°F (30°C) risks low or erratic germination! Sow late in July into September for a fall crop. Spinach can also be planted from September until freeze-up for an early harvest the following spring; floating row covers offer effective winter protection.
Tyee
Slowest bolting smooth leaf spinach – best late spring variety, Tyee is about 10 days slower to bolt than any other spinach variety. Some trials show Tyee can be planted almost all spring and summer because of it's exceptional heat tolerance.